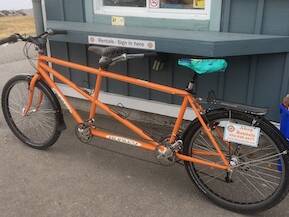 Rental Rates
Half Day: $30
Full Day: $40
2-4 Days: $35 per day
5-7 Days: $30 per day
8+ Days: $25 per day
Prices includes HST, lock and helmet.
---
This slick looking tandem bike will get everyone looking sideways at you as you coast down the path. Explore the waterfront path in Kingston or take the free ferry ride over to Wolfe Island and explore the secluded beach. We provide maps for both routes. Baskets, locks and helmets included.
Size: 19" Front, 15" Rear.
Hourly Rentals - Not Available until further notice.
Minimum one hour rental, the second hour is rounded to the nearest 15 minutes. Start time is when you made your reservation, so plan on arriving at least 15 minutes beforehand. If you walk in to rent a bike, rental times start riding.

Full Day Rentals start time is 9am with return by 6pm.
Half Day Rentals start time is 9am with return by 2pm.
---
Reservation and Cancellation Policy

Hourly Rentals: Reservations are not required for hourly rentals, but we recommend one if you are renting on a summer weekend. No deposit required, however we will only hold your bike for 15 minutes after your requested start time.


Full Day & Multi Day Rentals: Reservations required, full payment via our online reservations system. No refunds for cancellations within 48 hours, a 25% fee will be applied to cancellations greater than 48 hours.