Sailing Rentals
Sailing Rentals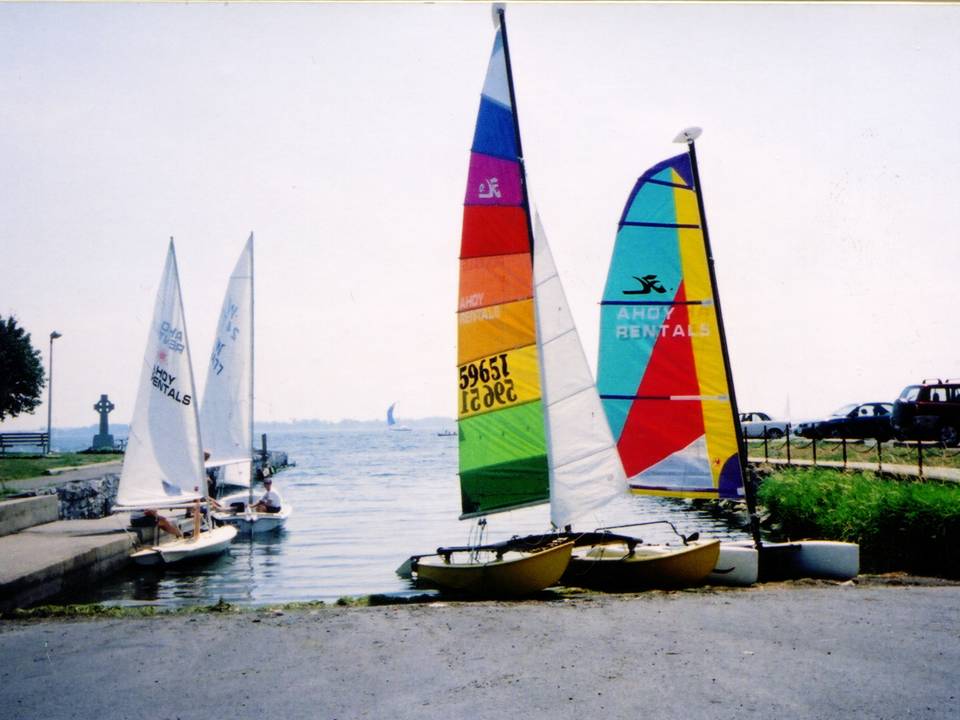 Rental Rates
Hourly: $40 First Hour, $6 each additional 15 mins.
Full Day: $125
Prices includes HST and all safety equipment.
---
Choose among 6 different sailing dinghies that Ahoy Rentals has available. Sailing certification is not mandatory, but prior sailing experience on these types of sailboats if required.
One experienced sailor is required for each boat, unless you are taking out the larger Hobie 18, in which case two experienced sailors are required. No exceptions. If you are unsure about your skill level, give us a call and we can discuss. We would be more than happy to arrange a one-hour refresher course for you, to improve your confidence, safety, and enjoyment. Our staff rig and launch all sailboats at the nearby launch ramp; however, you are responsible for landing, dropping sails, and hauling out the boat and returning it to Ahoy Rentals. We will give you instructions on how to do this. If you are unfamiliar with the sailing area, we will give you a short briefing using the nautical chart we have posted on the wall. Lifejackets and all mandatory safety equipment are included.

Hourly Rentals: Minimum one hour rental, the second hour is rounded to the nearest 15 minutes. Start time is when you made your reservation, so plan on arriving at least 15 minutes beforehand. If you walk in to rent a sailboat, rental times start from when we launch you.

Last rental out is 1 Hour before close.

Full Day Rentals start time is our opening for that day or an otherwise requested start time, with return by close of that day.
---
Reservation and Cancellation Policy

Hourly and Full Day Rentals: Reservations required, full payment via our online reservations system. No refunds for cancellations within 48 hours, a 25% fee will be applied to cancellations greater than 48 hours. On site rentals will be cancelled if weather conditions are unsafe for sailing. In this case, full refunds will be given.