Instruction
Learn to Paddle - Canoe/Kayak/SUP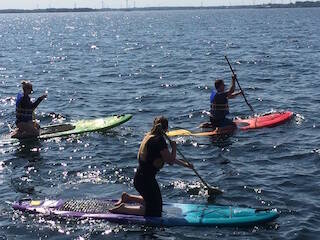 Instruction Rates
$45 - 1 hour paddling instruction for 1 person.
Prices includes HST, canoe/kayak/sup and all safety equipment.
---
Let our experienced instructors introduce you to the joys of canoeing, kayaking or stand-up-paddleboarding. This is not a course that leads to any form of certification, rather it is an introduction to learn how to safely paddle. Some of the topics covered: paddling techniques, embarking and disembarking from a dock, steering, falling out of a canoe or kayak.
1 Hour Paddling Instruction runs from June 21 to September 3, 2021.
Monday to Friday: 1pm to 4pm (start times).

Due to high demand for all rentals, paddling instruction is not available on weekends.

---
Booking and Cancellation Policy
Reservations for Paddling Instruction require full payment via our online reservations system. No refunds for cancellations within 48 hours, a 25% fee will be applied to cancellations greater than 48 hours. Instruction will be cancelled or postponed if weather conditions are unsafe. In this case, full refunds will be given.