Learn to Paddle
Learn to Canoe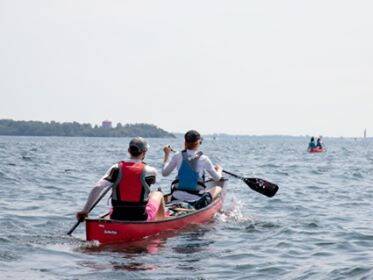 Instruction Rates
$45 - 1 hour paddling instruction for 1 person.
Prices includes HST, canoe, and all safety equipment.
Maximum number is 2 for Canoe Instruction.
June 20 to September 2, 2022.
Monday to Friday: 1pm to 5pm (start times).

Due to high demand for all rentals, paddling instruction is not available on weekends.

Let our experienced instructors introduce you to the joys of canoeing. This is not a course that leads to any form of certification, rather it is an introduction to learn how to safely paddle. Some of the topics covered: paddling techniques, embarking and disembarking from a dock, steering, falling out of a canoe.
Booking and Cancellation Policy
Reservations for paddling instruction require full payment via our online reservations system. No refunds for cancellations within 48 hours, a 25% fee will be applied to cancellations greater than 48 hours. Instruction will be cancelled or postponed if weather conditions are unsafe. In this case, full refunds will be given.