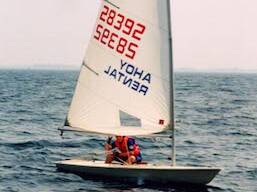 Rental Rates
$40 First Hour, $6.00 each additional 15 mins.
Full Day: $125 (over 5 hours).
Prices includes HST and all safety equipment.



Hourly Reservations: Payment required for the first hour. Check wind forecast prior to any booking, we do not allow our sailboats out in wind strength above 15 knots. Please arrive 15 minutes before your booking, we will have your boat rigged and ready to go.
Last rental out is 1 Hour before close.
Full Day Reservations: Full payment required to book.
---


The laser is a very popular recreational boat because it is extremely responsive, fast and fun for sailors who are reasonably athletic and skilled. The size of the laser sail requires the weight of a full-sized adult to ballast and balance the boat to prevent capsize. In the event of a capsize, it is a very simple boat to right.
Specifications:
Length: 13.8' or 4.2m
Beam: 4.56' or 1.39 m
Draft: 2.62' or 0.80 m
Sail Area (Full Rig): 75.99 sq. ft. or 7.06 sq. m.
Sail Area (Radial): 62 sq. ft. or 5.72 sq. m.
Experienced Sailors Required: 1
Capacity: 1 Adult
Number in Fleet: 1 (Full Rig or Radial)

---
Reservation and Cancellation Policy

Hourly & Full Day Rentals: No refunds for cancellations within 48 hours, a 25% fee will be applied to cancellations greater than 48 hours. Full refunds or reschedule if weather conditions are unsafe for sailing.